Mobile ticketing is a process through which customers can order, pay for, obtain and/or validate tickets using mobile phones or other mobile devices. Mobile ticketing is convenient as it provides new and simple ways to purchase tickets. In addition, mobile tickets reduce the production and distribution costs that are associated with traditional paper-based ticketing channels. Mobile tickets can be purchased in different ways that include online, via text messaging or over the phone through a voice call, WAP page, or through a secure mobile application. For repeated purchases such as daily train tickets, mobile applications or text messaging can be used. However, there are certain drawbacks associated with this process. They include the vendors losing a substantial amount of their revenue to the mobile operator, and any credit card purchase has to be completed through a web page as SMS has no adequate security for credit card entry, and very few ticket choices can be easily remembered and entered by SMS.
Persistence Market Research forecasts the global mobile ticketing market to be valued at nearly US$ 850 Mn by 2017 end and reach nearly US$ 3,200 Mn by 2024, representing a CAGR of 21.3% between 2016 and 2024. This high demand for mobile ticketing is attributed to the growing trend of rapidly increasing smartphone users as well as increasing usage of mobile ticketing apps in the transportation sector all over the world. The global mobile ticketing market is estimated to represent an incremental dollar opportunity of more than US$ 2,500 Mn between 2016 and 2014.
Drivers fueling the growth of the global mobile ticketing market
Increasing use of smartphones by end users
There are numerous smartphone manufacturers present at a global level, due to which the prices of smartphones have gradually declined over the past few years. Due to this, an increasing number of customers have shifted from feature phones to smartphones. As a result, customers are well acquainted with the functioning of a smartphone. Besides, mobile ticketing applications can be easily installed and operated in smartphones. Due to this, wide adoption of smartphones has been positively affecting the growth of the global mobile ticketing market, and this trend is expected to continue over the forecast period.
Rising need to make bookings anytime, anywhere
Due to a busy lifestyle, people don't have sufficient time to physically travel to a certain location to book tickets for bus, train, airline, and movie or for any other recreational activity. In addition, due to increasing urbanization, several companies have established the provision of an online portal to book tickets or hotels through the internet in order to digitally transform operations. With an increasing focus on offering ease of accessibility and efficient services to customers, companies are gradually partnering with ticketing agents to create online portals for customers to easily log in at any place, anytime and make bookings online. This technological evolution is rapidly fueling the global mobile ticketing market.
Request for Sample Report : https://www.persistencemarketresearch.com/samples/12454
Restraints stalling the growth of the global mobile ticketing market
Lack of knowledge regarding usage of mobile ticketing apps
Besides a lack of proper internet connectivity, a major factor hampering the growth of the global mobile ticketing market is the lack of awareness amongst the vendors as well as end users about how to use apps to access and book tickets through the internet. In addition, a large number of consumers or end users are reluctant to use ticketing apps, due to the perception that their personal details and sensitive banking information may be misused or stolen if provided online. Also, a majority of smartphone manufacturers offer devices with pre-installed ticketing apps. However, the process of registering in the app and providing personal information in order to activate these apps on smartphones is complex and time consuming. This is another factor impacting market growth to a moderate extent currently due to language barriers as well as the mobile app user interface not being very user friendly in some mobile devices presently.
Global Mobile Ticketing Market Analysis and Forecast by Application, 2016–2024
In terms of value, the travel tickets segment is projected to be the most attractive segment by application in the global mobile ticketing market during the forecast period. However, the entertainment tickets segment is expected to register high Y-o-Y growth rates throughout the forecast period. In 2015, the travel ticket segment was valued at almost US$ 285 Mn and is expected to witness a steady growth in terms of revenue throughout the forecast period.
Request for ToC : https://www.persistencemarketresearch.com/market-research/mobile-ticketing-market/toc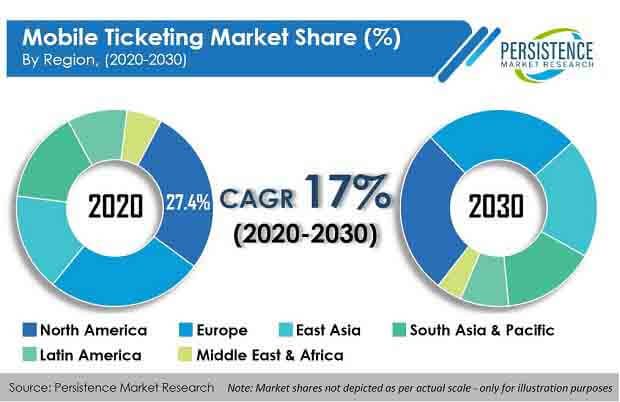 Integration of urban mobile ticketing for public transportation is a growing trend in the global mobile ticketing market
Mobile ticketing applications are rapidly gaining traction in the public transportation sector. In various regions – especially in Europe and North America – multiple smart city projects have been launched recently, which also include mobile ticketing for transportation. These applications have simplified the process of public transportation booking on a daily basis, which makes it easier for citizens to travel on buses or trains, as users can book their tickets for any option using a single app.